2022 Del Mar Rotary Chili & Quackers Challenge
WHEN:

Saturday May 21, 2022, Noon to 3 pm

WHERE:

Powerhouse Park, 1658 Coast Blvd, Del Mar, CA

WHAT:

Ducky Derby Race
2:30 pm: Del Mar Lifeguards take thousands of rubber duckies into the Pacific surf, release them, and corral them back to shore.
The first ducks to reach shore will win thousands of dollars in prizes. First Prize: $1,000; Second Prize: $600; Third Prize: $400; Fourth and Fifth Prizes: $200.

Beer and Wine Tent Open
Fun and Games for the Kids!!!

Chili Dogs
Instead of our usual Chili Cook-off we will sell delicious chili dogs.

COST:

Admission is Free
Different Ducky adoption packages are available for purchase online & onsite.
Beer and Wine $7 per glass.
Chili Dogs $5 each.
Soft Drinks & Water $3 each.
Food and beverages can be purchased onsite, or pre-purchased online.

WHY:

It's Fun for All Ages!!!
Proceeds support the Rotary Club of Del Mar's charitable activities in the local communities and schools, and in underserved nations around the world.
Ducky Derby:
Ducky Adoption Packages
Single Quack (1) $10
Quacker Trio (3) $25
Six Quack (6) $40
Quacker Dozen (13) $80
Flock (20) $100

Click here to adopt your ducks and pre-order food and beverages.
---
Sponsorship Opportunities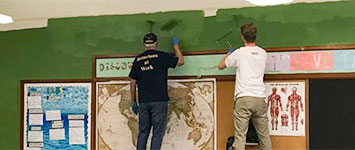 Please consider sponsoring Chili & Quackers by making a contribution here. The Rotary Club of Del Mar will direct your tax deductible donation to where the need is greatest, and you will make a difference in the lives of others. Recognition for the following sponsorship levels is displayed on this site:
Platinum: $1,000+
Gold: $500 - $999
Silver: $200 - $499
Bronze: up to $199
Rotary Club of Del Mar Foundation Trust is a charitable organization under section 501(c) 3 of the IRS code; our tax ID number is 33-0102863.
---
We Are Grateful to Our Generous Donors
| | | | |
| --- | --- | --- | --- |
| Platinum: $1,000+ | Gold: $500 to $999 | Silver: $200 to $499 | Bronze: Up to $199 |
| | | | |
---

Web site design by Philippe Lamoise, D2G